According to Strepulsion-Physics and Ultimate Reality of the Universe (URU), STARS EXERT FORCE OF REPULSION. Therefore, whenever star-light enters in the Solar System it is REPELLED by the SUN. The straight path of star-ray is turned into anti-solar radiation curve and star image appears at different location (away from the Sun) than real position. This is anti-solar deflection of star image by Solar Repulsion Force.
What should be ANGLE (D) of SLD ?
Prof. Pankaj N. Jain established a new law by which the ratio of angle can be accurately measured.
THE LAW OF SLD:
THE ANGLE OF SLD IS PROPORTIONAL TO THE RADIUS OF ORBITAL CIRCLE OF PLANET.
RADIUS = Mean distance of Planet
from the Sun (d)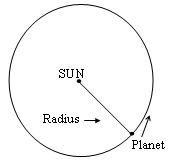 As radius is greater, star-light passes from greater distance under influence of Solar Repulsion Force (SRF). SLD is owing to SRF. Therefore, Planets having greater radius follows higher angle of deflection and visa versa.
Radius = distance from the Sun (d)
D of SLD a d

ANGLE OF STAR-LIGHT DEFLECTION IS PROPORTIONAL TO MEAN SUN-PLANET DISTANCE (d).