SORLOD SPACE SYSTEM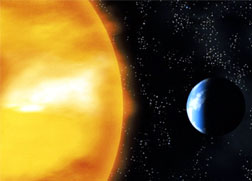 THE NEW SPACE NAVIGATIONAL TECHNOLOGY TO LEAD PRESENT SPACE PROGRAMME AHEAD BY A CENTURY.
The Solar System along with the Universe is balanced and dominated by THREE Universal Forces. These are REPULSION, GRAVITATION and RETRACTION. But present Science World knows only one Universal Astronomical force and that is GRAVITATION. Other two forces are still unknown to the Science World.
Owing to this ignorance, today, after efforts of more than half a century and after investment in trillions in Space Struggle, still the ultimate achievements are like the children's playing with paper boats in village ponds. With all known technology, still it is hardcore reality that neither NASA nor ESA or any Space Agency of the World has possible to keep a tinny satellite revolving around the Earth for "EVER" as natural moon in fixed orbit deriven by natural forces. Today, artificial satellites need artificial force for motion and need constant correction to preserve it in its orbit and after all efforts, life-span is only between 3 to 5 years. This is because present Space Science is unaware about the forces, which are keeping Planets and Satellites, Asteroids and Ringlets of the Solar System in Revolution and Rotation. Gravitation is pro-centre force. This force can keep bodies to move closer to each other or to collide with each other. Spherical motion is not possible by Gravitation nor off-centre motion is possible. For these two motions need separate forces and these are RETRACTION FORCE (for spherical motion) and SOLAR REPULSION FORCE (for off-solar motion).
With efforts of quarter of the century, we have established a New Space Technology and titled it "SORLOD SPACE SYSTEM (SSS)". In this system, it is possible to achieve Interplanetary Space Navigation in linear or spiral form between nine planets for men and mineral transportation by SOLAR REPULSION FORCE. It is possible to build giant Space Stations to revolve around Planets and around the Sun by RETRACTION Force.
Solar Space is filled with trillion fathom deep ocean of SOLAR REPULSION FORCE still unknown to the Science World. This force can be utilised as "Fuel" for manmade giant space vehicles to navigate the Solar System and beyond. The speed under SSS system begins from 50 miles per second and can be raised up to 10% of the velocity of light.
To navigate the Solar System, there need to activate THREE kinds of motions. These are (1) Off-Solar-Motion (OSM), (2) Pro-Solar-Motion (PSM) and (3) Neutral Spherical Motion (NSM). For OSM needs Solar Repulsion Force (SRF), for PSM needs Gravitational Force (PGF) and for NSM needs Retraction Force (RTF). The Sorlod Space System holds the secret key to activate these three motions by utilising these three forces. DVd-Triquilibrium (DVdT) is the secret astromathical formula to function SSS system.
THAT NATION WILL DOMINATE THE MANKIND AND THE SOLAR SYSTEM, WHICH WILL PLAN ITS SPACE PROGRAMMES ON BASIS OF SSS. SSS HOLD THE SECRET KEY TO NAVIGATE AND DOMINATE THE SOLAR SYSTEM. SSS CAN BOOST SPACE NAVIGATION AHEAD BY A CENTURY.