ASTRONOMICAL CENTRIFUGAL FORCE
ASTRONOMICAL CENTRIFUGAL FORCE (ACF):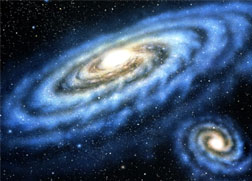 This is the second deadly anti-science virus created by Newton soon after creation of SGF. When Newton applied Gravitational force to the SUN also, then, to counterbalance Solar Gravitational force (So as Planets should not collide upon the Sun by Solar Gravitation) - Newton compelled to create the fictitious anti-gravitational (Off-Centre Force) force beneath the title of ASTRONOMICAL CENTRIFUGAL FORCE - to be exerted by Planetary bodies. That is to say, according to Newton's concept: "There is mutual gravitation between the Sun and Planets which is counterbalanced by Centrifugal force, so Planets remain in their orbits". That is to say, intensity of Centrifugal force is so high that it neutralises gravitational intensity of both units that is of the Sun and Planets. But according to Classical Science, there is no existence of any such elementary force as Centrifugal force, which could neutralise so great gravitational intensity. Centrifugal is an "side effect" when body suddenly takes turn. So whole concept is wrong. Therefore what Newton considered centrifugal force, as an elementary force was wrong. It is fictitious - an imaginary force and this fact is accepted by the Science World.
"CENTRIFUGAL FORCE IS FICTITIOUS FORCE HAVING NO REAL EXISTENCE. NEWTON COMPELLED TO CREATE THIS FORCE TO FRAME PLANETARY DYNAMIC WITHIN HIS LAW OF UNIVERSAL GRAVITATION."
- SCIENTIFIC AMERICAN
The Monthly Science Magazine
Page 127, March 1981.

-THE TEXT BOOK OF PHYSICS -Page 338
for PSSC Course in USA 339
The National Science foundation of America

Again, Newton assumed that Planets are at distance (D) from the Sun owing to ACF (C) and ACF is "generated" by Orbital Velocity (V) of Planets". Now, if this would be the reality, then D=C and C=V, So V=D, that is planets should revolve in higher velocity around the sun, as their distance from the sun is higher. So V of Mercury planet should be lowest and of Pluto should be highest. But in real observation - the result is REVERSE. V of Mercury planet is highest while of Pluto is lowest. This is because V=D is wrong. These observational facts reject Newton's concept of Centrifugal force.
What is Reality? The very funny side of this puzzle is SGF and ACF both forces are fictitious force imagined/created to counterbalance each other. There is neither existence of Solar Gravitational force nor there is existence of Astronomical Centrifugal force. But when a person tells a lie, then to prove it as "reality" he compelled to tell more lies. Accordingly, when Great Newton wrongly considered GRAVITATIONAL FORCE FOR THE SUN, he compelled to consider CENTRIFUGAL FORCE. Gravitation is Pro-Centre-Force (PCF) while Centrifugal is Off-Centre-Force (OCF). To counterbalance PCF need OCF. But when there is no existence of PCF, there is no need of OCF to neutralise it - is the Universal Reality.

So, SGF and ACF are two anti-science viruses created by Newton to neutralise/counterbalance each other. This is chain reaction of negative Science factors. This chain reaction multiplied in further negative factors till the whole edifice of Classical Science turned into a modern mythology.
The hardcore reality beneath this puzzle of SGF verses ACF is that the sun does not exert force of Gravitation - therefore there is no need to imagine "Centrifugal force" to counterbalance - Gravitation.
The mass of the sun is 99.99% of the Solar System. If with this great mass the sun exert force of GRAVITATION, then all nine planets with their satellites and rest bodies of the system should have collapsed into the sun billions of years ago, just at the beginning of the system itself. That is to say, IF THE SUN EXERTED FORCE OF GRAVITATION, THEN THERE WOULD BE NO EXISTENCE OF SOLAR SYSTEM ITSELF.
The Ultimate Reality of the Universe, based on Strepulsion-Physics is THE SUN EXERT FORCE OF REPULSION. PLANETS EXERT FORCE OF GRAVITATION. AT ORBITAL DISTANCES OF PLANETS, BOTH REVERSE FORCES COUNTERBALANCES EACH OTHER. THEREFORE PLANETS NEITHER FALL UPON THE SUN - NOR FLUNG AWAY OUT OF ORBITS, BUT REMAIN AT MEAN CONSTANT DISTANT FROM THE SUN IN ORBITS. SOLAR REPULSION FORCE AT ORBITAL DISTANCE COUNTERBALANCES MUTUAL GRAVITATION BETWEEN PLANETS AND SATELLITES. SO SATELLITES REMAIN IN THEIR ORBITS.
So, SGF and ACF are deadly anti-science viruses - created in 1685 and these viruses are even today dominating the Astrophysics, which is based on Newton's laws. Owing to these viruses, present Theoretical Science still wonders in dark valleys of Stone Age.