There exist two groups of Asteroids far away from main Asteroid belt and located in the orbital line of the planet Jupiter. As most of the Asteroids of these two groups are named after heroes of legendary TROJAN WAR, these groups are called TROJAN GROUPS of Asteroids.
In these two groups, one is called ACHILLES Group (AG) and another is called PATROCLUS Group (PG). AG located in FRONT side of Jupiter at 60° and PG located at 60° behind Jupiter. Both groups are located at equal distance from Jupiter that is at distance of 778.35 Million Kilometer and distance between the Sun and these groups is also same i.e.,778.35. This is TRIANGULAR SYSTEM of the Sun, Jupiter and Asteroids Groups. These two groups AG and PG revolve around the Sun at Velocity of 13.1 Kilometer per Second, which is equal to Jupiter's Velocity.
How this Triangular-System survives and in Motion ? According to Newton's law, these two groups AG and PG should be attracted by the Jupiter and fall upon Jupiter. But neither Trojan groups of Asteroids are collide upon Jupiter nor fall upon the Sun. Which Astrophysical Law governs this System ? There is no "scientific" answer for the problem in OLD SCIENCE. The scientific reasoning and explanation is in STREPULSION-PHYSICS (DVdT) which is as following:
DVdT and PLANET-ASTEROIDS TRIQUILIBRIUM (PAT):
THE SUN EXERTS SOLAR REPULSION FORCE (SRF). The planet Jupiter and both groups of Trojan Asteroids exert force of GRAVITATION. Interaction of SRF with GRAVITATION = RETRACTION FORCE (RTF). RTF maintains "MEAN CONSTANT DISTANCE" (MCD) between SUN-JUPITER, between JUPITER-AG-PG and between SUN-AG-PG. RTF keeps the Planet and Trojan Groups in REVOLUTION around the Sun and in ROTATION.
TROJAN ASTEROIDS-SUN SYSTEM:
The SUN EXERTS SRF. ASTEROIDS EXERT GRAVITATION. There is mutual gravitation between Asteroids particles. The intensity of mutual gravitational force is counterbalanced by Solar Repulsion Force (SRF). Therefore, individual particles of Trojan groups remain at mean distance from each other. Interaction of SRF with Asteroids GRAVITATIONAL FORCE resulted into RETRACTION FORCE (RTF). RTF keep ASTEROIDS in REVOLUTION around the Sun, at velocity proportional to DENSITY of Asteroids. Asteroids Attracts the Sun but Sun REPELS Asteroids. At orbital distances both reverse forces counterbalances each other. So, Asteroids remain at MCD from the Sun in their orbit
TROJAN ASTEROIDS & JUPITER SYSTEM:
Both groups of Trojan Asteroids are in orbits of Jupiter but each group at great distance of 778.35 Million KLM from Jupiter. So, there is no mutual gravitational interaction between Asteroids Groups and Jupiter.
THE SUN-JUPITER-TROJAN ASTEROIDS TRIQUILIBRIUM:
Asteroids of Trojan groups are much lower in DENSITY than Asteroids of normal Asteroid-belt. So, the Trojan groups are far away from normal asteroid-belt.
DVdT IS THE LAW WHICH DOMINATES THE SOLAR SYSTEM
EQUAL DISTANCES:
Distance (d) between the Sun and Jupiter is 778.35 Million Kilometer. Distance (d) between Trojan Asteroids Groups and the Sun is also 778.35 Million Kilometer. This is because DENSITY of Jupiter and average DENSITY of Asteroids of Trojan Groups is same that is 0.438 (Earth = l). SO EQUAL DENSITY = EQUAL DISTANCE from the Sun. Therefore TROJAN ASTEROIDS are located in Jupiter's Orbit.
d =1/D2 or D =


d = distance, D = Density.
DVdT Formula: DIVIDE 12.231 by SQUARE-ROOT of DISTANCE, RESULT WILL BE DENSITY
SQUARE-ROOT OF DISTANCE 778.35 = 27.898
DENSITY = 12.231/27.898 = 0.438 DENSITY (Earth = 1).
So, DENSITIES of JUPITER, ACHILLES GROUP and PATROCLUS GROUP is 0.438. Because of DENSITY of 0.438, Jupiter and Trojan Groups are located at distance of 778.35 Million Miles from the Sun.
ORBITAL VELOCITY (OV) IS PROPORTIONAL TO DENSITY
DVdT formula: MULTIPLY DENSITY WITH 29.8, result will be VELOCITY in KLM per Second
VELOCITY = 0.438 x 29.8 = 13.1 KLM/Sec.
So, all three "bodies" Jupiter, Achilles Group and Patroclus Group revolve around the Sun at orbital velocity of 13.1 KLM/Sec. So, there is no chance for collision between themselves. EQUAL DENSITY (0.438) IS THE SECRET OF EQUAL DISTANCES (778.35) AND EQUAL ORBITAL VELOCITY (13.1) OF TRIPLE BODY SYSTEM. RETRACTION FORCE is the elementary force, which keep TRIPLE-SYSTEM in MOTION. The phenomena of this TRIPLE-SYSTEM proves one basic reality and that is THE SUN EXERTS REPULSION FORCE — not GRAVITATION.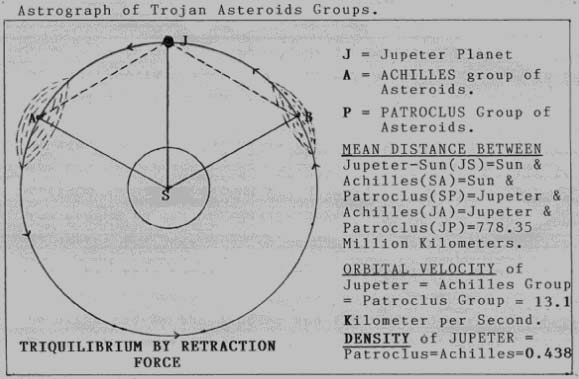 The ACHILLES group escorts the king JUPITER, followed by another group PATROCLUS. This majestic system of the solar system is formed and activated by RETRACTION FORCE.

Dr. Navinchandra K. Shah
Prof. Raviraj Chittaranjan