GRAND UNIFIED FIELD THEORY – PART I
From Newton to Einstein – all great Scientists have tried to construct one such mathematical theory, which can explain all three different forces in one Formula. The below factors they wanted to summarize:

Dr. Albert Einstein spent more than 30 years of his life in trying to arrive at a single mathematical theory, which would form a bridge between the Gravitational and Electromagnetic forces, which seems to obey different laws. However, he did not succeed, and an acceptable solution of this great matter remains in puzzles till today.
The Science World failed to construct one SINGLE LAW for all 3 forces simply because present concept of "Mutual Gravitation" in wrong. We are living in the Solar System in which Planets – the Earth exert force of GRAVITATION but the Sun exerts – not Gravitation but reverse force – REPULSION. The Solar System is balanced by two reverse forces, which are interacted into one "neutral force" force of RETRACTION. This RETRACTION force is in action between two bodies, which is neither only force of attraction nor repulsion. Because only force of Attraction beneath the title of Gravitation is taken in account, which is "Singular" force while other two are "Compound" forces – Science World failed to build single-grand unified theory. Again, "every particle attract every other particle in the universe" – the basic concept of gravitation is wrong and unscientific. We have seen in previous pages that entire Stellar Universe – with the Sun exert force of REPULSION – not Gravitation.
The Grand – Unified Field Theory can also be written as below:
CF = ct 1 x ct 2 / d2 CF = Compound Force
ct = Component force or charge
d = Distance
Compound force is proportional to products of its two reverse components and inversely proportional to square of distance.
Negative & positive are two reverse components of ELECTRICAL FORCE.
Attraction & Repulsion are reverse components of MAGNETIC FORCE.
Attraction & Repulsion are reverse components of RETRACTION FORCES.
This law is applicable to all three principle forces of the Universe.

GRAND UNIFIED FIELD THEORY – PART II
The Unified field theory between all principle forces can be established only on basis of RETRACTION and when RTF is taken – Solar Repulsion x Planetary Gravitation concluded. It is possible to construct the grand unified theory under Strepulsion-Physics of Supreme-Universal Law UT9 for first time in the history of Science. Let us formulate the three basic factors:
1. There are two kinds of forces: SINGULAR and COMPOUND.
Attraction only or Repulsion only is "singular" force.
Only negative or only positive are "singular" charges or singular forces.
Only gravitation – that is force of Attraction is singular force.
2. Electrical force, Magnetic force and Retraction force as a whole are compound forces, which consist of two "Components" of subordinate forces.
1. Electrical force = Negative x Positive charges
2. Magnetic force = Attraction x Repulsion force
3. Retraction force = Gravitation x Repulsion force
Simplification: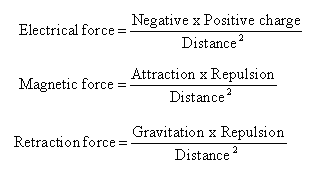 Now let construct one law or one singular theory on basis of above 3 factors:
GRAND UNIFIED FIELD THEORY: COMPOUND FORCE IS PROPORTIONAL TO THE PRODUCTS OF ITS TWO SUBORDINATE FORCES OR CHARGES AND INVERSELY PROPORTIONAL TO SQUARE OF DISTANCE.
CF = SOF1 x SOF2 / D2 CF = Compound Force
SOF = Subordinate force or charge (SOF are reverse
forces to each other)
D = Distance
This law is applicable to all three forces of Electrical, Magnetic and Retraction. Not applicable to Gravitation because it is "Singular" force and this law is for compound forces.
In case of all singular forces, law follows Intensity of force / distance.
In the Solar System Intensity of Gravitation only or Repulsion only is as following:
G = 1/d x R = 1/d = RTF = G x R that is RTF = 1/d x v1/d = 1/d2
Retraction force is inversely proportional to distance because of above factors. When we move out of Solar System where "pure" absolute Gravitation can be tested then it follows G = 1/d and absolute Repulsion also follows R = 1/d. That is proportional to intensity and inversely proportional to distance. This is applicable to all singular forces and charges.